A man arrested for indecent exposure gave police a very creative excuse for masturbating in public. Police officers were sent to a convenience store in Vero Beach, Florida, USA, after someone dialed...
Read more »
A Kim Kardashian lookalike and erotic model has died of cardiac arrest following a plastic surgery procedure. Christina Ashten Gourkani more known in erotic streaming media as Ashten G died in the...
Read more »
Ashley Graham has been crowned the "world's sexiest woman". Graham, a plus-size model and mum-of-three, earned the top "Hot 100" spot in Maxim magazine and sizzled on the cover of the magazine's May/June...
Read more »
A woman who has refused to split the bill on any date, has slammed her haters who call her a 'gold digger' and 'selfish' for insisting that ladies should 'never split the...
Read more »
A woman who quit her job made her colleagues 'sorry for your loss' candles so they could 'mourn her' – complete with a photo of her face on the label. Branka Oljaca,...
Read more »
Gillian Jacobs knows exactly how devoted and adoring the Community fandom is, but she does have one wish for the culture: that more fans would give the series' final season a few more flowers. "I think...
Read more »
FULTON COUNTY SHERIFF'S deputies arrested Anastassios Manettas, an attorney representing one of the defendants in the sprawling trial of rapper Young Thug and 13 others accused of gang and racketeering charges in Atlanta. Manettas had been...
Read more »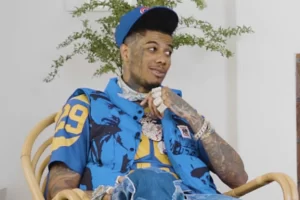 Blueface has said that every man cheats and he can guarantee it. The American rapper said this during an interview on Rap TV. "Let me break it down for you," Blueface told...
Read more »
Megan Thee Stallion has spoken about being shot by former her close friend and fellow rapper, Tory Lanez. In a new interview with ELLE, the rapper, 28, said: 'I view myself as...
Read more »